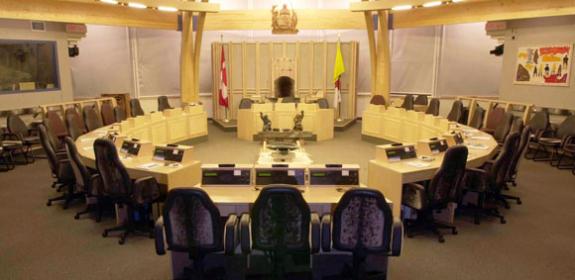 Nunavut Election 2017
Welcome to our post-election wrap-up of the 2017 Nunavut general election. The contests of October 30th saw reduced turnout, high turnover, and gave a boost to the representation of women in the Nunavut Legislative Assembly.
We will have a better sense of the political and policy priorities of the new government once newly elected MLAs meet in Iqaluit on November 17th to choose the speaker, premier, and cabinet by secret ballot. In the meantime, let's dig into the local election dynamics that gave us the 22 MLAs from which a territorial government must be chosen.
Turnout, Turnover, and Diversity
As usual, results were slow to come in; it was well after midnight before all ridings had reported (polls closed at 8 pm eastern time). Turnout varied from a high of around 81% in Arviat South to just below 49% in Iqaluit Sinaa. At below 50%, two Iqaluit ridings posted the lowest turnout of all districts, a far cry from early Nunavut elections where more than three quarters of those eligible often voted. Of course no one turned out to vote in Kugluktuk as Mila Adjukak Kamingoak was acclaimed MLA.
As is typically the case in Nunavut elections (and many elections in Canada), incumbents did not fare well: 8 of 19 went down to defeat, some spectacularly, though others won handily. Still, with a record number of incumbents running, for the first time half of the new House – indeed, precisely half, 11 of 22 – will be returning members. Two others had previously been MLAs.
Three of the six ministers who stood for re-election – Deputy Premier Monica Ell-Kanayuk, Culture and Heritage Minister George Kuksuk, and Family Services Minister Johnny Mike – were defeated as was Speaker George Qulaut. Kuksuk and Mike were trounced, Mike garnering just 18 per cent of the vote in a four-person race, Kuksuk 22 per cent in a two-man contest.
Education minister Paul Quassa won a squeaker, with ten more votes than the nearest of his three opponents. Health Minister George Hickes, by contrast, took almost 80 per cent of the vote in his Iqaluit seat while Community and Government Services Minister Joe Savikataaq won handily in Arviat South.
Perhaps the most notable outcome was the election of six women, double the number in the previous House, previously the all-time high. A legislature where slightly more than a quarter of the members are women may not seem remarkable in this day and age, but by comparison with the truly dismal under- representation of women in previous Nunavut assemblies, it warrants celebration.
In most ridings results were clear cut; only five contests were won by 25 or fewer votes. In Nunavut elections, "close" is a relative term: in ridings with several candidates and only a few hundred voters, a 40-vote margin can be quite comfortable. The single judicial recount confirmed Jeannie Ehaloak's victory in Cambridge Bay by 11 votes, two more than on election night.
The outcome in Uqqummiut proved a classic example of local favouritism and vote splitting in two-community ridings. Incumbent Pauloosie Keyootak took 85 per cent of the vote in his home community of Qikiqtarjauq but only 13 per cent in Clyde River, a larger community. However, his two opponents from 'Clyde' split the vote there, giving him victory by a comfortable 44 vote margin.
Preliminary figures indicate overall turnout of roughly 63 per cent, the lowest in Nunavut's five elections and down substantially from about 70 per cent in 2013. In several ridings, turnout reached 75 per cent or better. Along with having ridings with the lowest turnout, Iqaluit contests were in general marked by low voter interest.
In addition to the three defeated ministers, prominent losers included former premier Paul Okalik who lost decisively to former Iqaluit mayor Elisapee Sheutiapik in Iqaluit-Sinaa, former MP and Nunavut Justice Minister Jack Anawak, who finished 100 votes behind former minister Patterk Netser in Aivilik, and 78 year old Isaac Shooyook, the incumbent in Quttiktuq, who took only 45 of over 400 votes, losing to former cabinet secretary David Akeeagok. One of the nine candidates in Quttiktuq, who did not live in the riding and thus could not vote for herself, attracted precisely zero votes.
Nester was not the only former MLA returning to the Assembly. In Rankin Inlet South one-time minister Lorne Kusugak almost tripled the vote on incumbent Alex Sammurtok, who had beaten Kusugak in a 2013 by-election necessitated by their election night tie.
Although only nine of the 22 MLAs are new to the assembly, post-election commentary has pointed hopefully to an apparent shift away from what was often termed 'the old guard' by those discouraged by Nunavut's lack of progress on the many problems facing it. That five of the six women elected are first-time MLAs – though most have extensive political experience – and the sixth, Pat Angnakak, was a persistent critic of government in the previous House, lends credence to the expectation of change.
We will find out more on November 17th when the newly elected MLAs to meet in Iqaluit as the "Territorial Leadership Forum" to choose the speaker, premier and cabinet, with the first session of the new Assembly session beginning on the 21st.
The politics of selecting the Nunavut premier – by secret ballot of all MLAs – are always unpredictable, but never more so than this year. Among the potential candidates, some of whom have openly declared an interest in the top job and some who are likely quietly working the phones and backrooms, are Quassa, Kusugak, Netser, Hickes, Savikataaq, Akeeagok, Sheutiapik and former Nunavut Tunngavik Incorporated President Cathy Towtongie. Predicting the cabinet – also chosen by secret ballot of all members – is even trickier.
Some, though certainly not all, of the newbies will pass on putting their names forward but it's a good bet that at least half the MLAs will go after cabinet posts. Picking prospective ministers in office pools, a favourite Nunavut pastime, will make choosing fantasy league hockey teams seem easy.
Special thanks to Professor Graham White for his insights into northern politics, to those who provide the media coverage essential to free and fair elections, and the officials, candidates, volunteers, and voters who animate representative democracy.
See you next time
Join the CED team next time for the 42nd Ontario Provincial Election on June 7, 2018.
If you have questions or comments, please use the link below to contact the team at the Canadian Elections Database.
More information