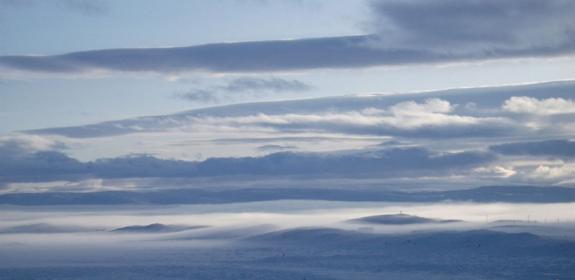 Nunavut Election 2017
Good morning. It's election day in Nunavut. Our fourth Nunavut Election Newsletter explores some of the distinctive territory campaign dynamics that shaped the election.
Election results will be available on CBC radio, television and internet sites later in the day with lots of election information also available via the two Nunavut weekly newspapers, Nunatsiaq News and News/North Nunavut.
Money and Trust
Elements of electioneering in Nunavut are much like elsewhere in Canada: signs, brochures, all-candidates meetings, door knocking, and the like. But with most ridings having only a few hundred voters and no political parties, elections are focussed on individual candidates' qualifications and personalities. Most candidates, and certainly most successful candidates, are Local Notables, well-known in their communities through personal contact with voters.
Television, radio and newspaper ads are all but nonexistent. A few candidates, especially in Iqaluit, have web sites or social media profiles. The CBC North Nunavut through its newscasts (which are particularly significant in the North) and its web site as well as the two Nunavut weekly newspapers, Nunatsiaq News and News/North Nunavut run riding profiles and candidate statements.
Money plays a much smaller role in elections in Nunavut than elsewhere in Canada. analysis of official returns in the last ( 2013) election suggests that only in the capital, Iqaluit, are financial resources a factor. In three of the four Iqaluit ridings, the winning candidates substantially outspent their opponents, with expenditures ranging between $8200 and $13,890.
Outside the capital, however, only five candidates spent more than $5000; two lost. Only one spent more than $10,000 and was trounced by an opponent who spent a third of that. Most non-Iqaluit candidates – winners and losers – spent well less than $5000. Six successful candidates spent less than $400; two reported spending precisely zero (see Graham White, 2016). Personal contact is crucial to electoral success, but most ridings encompass one community, so travel expenses are limited, and there are few means of communicating with voters, so little expense there as well.
In ridings with two communities (or in one instance three), getting to each community is essential if a candidate is to maximize his or her support. Candidates will be familiar to those in their local community. Building familiarity and trust outside a home community requires personal contact. Candidates use this opportunity to counter the perception that once elected MLAs favour their home communities when pushing for all-important community infrastructure and service-delivery projects.
As the only means of travelling between communities is by air, you might think that campaigning entails substantial costs. Candidates in the Aivilik riding, for example, who wish to fly between its two communities, Coral Harbour and Naujaat, face a one-way fare of between $600 and $1000 for a 300-kilometre flight. Offsetting this, it is common for the airlines to offer limited complimentary travel to candidates travelling between communities.
That said, air travel in Nunavut is always limited and often unpredictable. Service between Coral Harbour and Naujaat is infrequent, perhaps once or twice a week. And the weather doesn't always cooperate. Just ask Netsilik candidate Joe Tulurialik, whose flight from his hometown of Taloyoak to Kugaaruk (the other community in the riding) was diverted by bad weather to Yellowknife (in the NWT), where he had to cool his heels for a couple of days waiting for a return flight. Opportunities to spend money on travel are limited, and there is no tradition of paying to build a campaign team in each community.
As a result, the number of candidates from each community in a riding as well as the population balance between communities are key to election outcomes. Woe betide the two candidates from community A running against a lone candidate from community B, for they face a good chance of splitting the vote and seeing their opponent win the day.
The two Clyde River candidates in Uqqummiut, Jerry Natanine and Jonathan Palluq, are in tough against incumbent Pauloosie Keyootak who is from Qikiqtarjauq, although Clyde's larger population (roughly 850 versus about 550 in 'Qik') should help their causes.
Iqaluit Exceptionalism
Elections play out differently in Iqaluit than elsewhere in Nunavut. They are easier to coordinate and the infrastructure for engaging voters and candidates and reporting events is more developed. The greater use of social media by candidates in Iqaluit elections speaks to the possibilities for and appeal of broadcast communication strategies in these ridings.
There are four ridings in the capital, Iqaluit-Manirajak, Iqaluit-Niaqunnguu, Iqaluit-Sinaa and the newly created Iqaluit-Tasiluk. All-candidates meetings in Iqaluit are a political junkie's dream. Witness the marathon meeting a few days ago which featured consecutive – and wide-ranging – Q&A sessions with the candidates from all four local ridings ( Iqaluit-Manirajak , Iqaluit-Niaqunnguu , Iqaluit-Sinaa , and Iqaluit-Tasiluk ). It is not surprising then that enhanced opportunities for engagement and spending on campaign infrastructure leads to higher general levels of spending in Iqaluit over contests outside the capital.
Once the dust settles – or perhaps better, the snowstorm ends – we'll try to make sense of the results in a final post.
More information
Correction: an earlier post said only two incumbents, Premier Peter Taptuna and Finance Minister Keith Peterson, were not running. We missed Steve Mapsalak, MLA for Aivilik, who also declined to put his name forward.
Contact the Canadian Elections Database team at