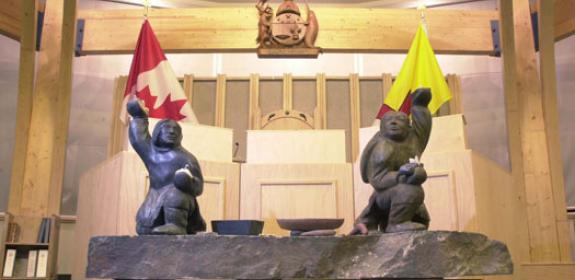 Nunavut Election 2017
Thanks for joining us for the second Nunavut Election Newsletter brought to you by Professor Graham White of the University of Toronto and Anthony Sayers for the Canadian Elections Database. Feel free to share it with others.
The politics of this vast territory are distinctive, juxtaposing as they do ancient social and political arrangements with electoral politics like that experienced in other parts of Canada. The result is a unique form of government and culture of elections.
As noted in the first Newsletter, the Legislative Assembly of Nunavut is distinctive and operates without parties in a style that locals call 'Consensus Government'. But elections involve robust competition.
Let's take a closer look.
From Consensus to Competition
Nunavut elections are a dream for those interested in local dynamics. Vast distances and a small population mean there really is no coordinated territory-wide election. Incentives for party formation are limited, and campaigns, election laws, and administrative practices have had to adapt to the reality of around 20 largely idiosyncratic local contests.
Most Canadians have a sense that its population is small and mostly Inuit. Correct on the "mostly Inuit" – roughly 85 per cent of the Nunavut population is Inuit. But its population is not "small", it's minuscule – about 37,000 living in an area the size of Western Europe. And while dominated by Inuit, Nunavut has a "public" government, as opposed to an Aboriginal self-government. Hence all residents who are 18, Canadian citizens, and meet the standard residency requirements, are eligible to run for office and to vote.
The mechanics of the election are (mostly) familiar, starting with the electoral system: single-member plurality, or 'first-past-the-post'. A strict election finance regime is in place (more on this next time). Advance polls, proxy voting and the like work much as they do in southern Canada.
Not everything, however, is the same as in the south: posters with photos of candidates are found at polling places and in exceptional circumstances it is possible for voters out "on the land" to cast their ballots by satellite phone. Innovations that mimic electoral rules in other times and places where communication is difficult and distances large.
Let's go back to demographics for a second. With about 37,000 people in 22 constituencies, the average riding population is roughly 1,700. But Nunavut demographics are unlike those elsewhere in Canada, with unusually high numbers of children and youth, who are of course ineligible to vote.
Accordingly, in the last election (2013), more than half the ridings had fewer than 700 voters and none had more than 1000. Little wonder so many results are very close. On election night 2013, not one but two ridings reported ties. In one a recount produced a two-vote victory but the other remained a tie even after the recount, necessitating a subsequent by-election.
So, who is running? Only two of the 22 incumbents are not seeking re-election. This is a significant departure; in the previous three elections only about two-thirds of incumbents ran – and barely half of those won. The relatively low rate of successful incumbency reflects both the narrow margins many candidates win by and – more significantly – ongoing public disappointment at the performance of those elected.
Critically, the two incumbents not running are Premier Peter Taptuna and long-time Finance Minister Keith Peterson. Hence no matter what happens in the election, there will be a major change in the top leadership of the government.
In one riding, Kugluktuk (in western Nunavut; formerly called Coppermine; find it on a map for homework), only one candidate, Mila Adjukak Kamingoak, filed nomination papers and was therefore acclaimed.
Acclaimed? Does that happen often? Five times in the four previous elections. In the last election, Peter Taptuna was acclaimed and went on to win the premiership. He attained the highest office in the territory without an explicit democratic mandate, though it's fair to add that he was elected and that he was chosen to lead the government by democratically elected MLAs.
Acclamation is a venerable Canadian tradition (around 650 at federal elections since 1867), particularly in early elections. Liberal-Conservative Joseph-Aldéric Ouimet was acclaimed 3 times at federal elections and twice in by-elections. Early elections in other countries such as Australia (Sharman) and the USA (Wrighton and Squire) and the UK (Lloyd) featured uncontested seats. They remain common at municipal contests in the UK and surprisingly are becoming more so in the United States (Greenblatt), notably in the South (Myers).
That the first MLA elected is a woman will come as good news to the many Nunavummiut (the people of Nunavut) distressed at the dismal numbers of women elected to previous legislatures. In the four Nunavut elections to date, all told only six women have won – just under 8 per cent of the total. Nunavut is not the only Canadian jurisdiction that has work to do (O'Neill) on this front.
In most ridings voters have their choice of two or three candidates, but in one – Quttiktuq, the northernmost riding, which some argue extends to the North Pole thus making Santa a constituent – nine people are running. The candidates include former Government of Nunavut cabinet secretary David Akeeagok and the incumbent, 78-year old Isaac Shooyook,
Shooyook is notable for not only having been the oldest person ever elected to the Nunavut legislature but also for having made legal history. In 1965, Shooyook and another hunter who were living at a small remote camp far distant from any authorities killed a dangerous mentally unstable woman who was threatening to kill everyone in the camp. At a famous trial pitting Canadian law against harsh but necessary Inuit practices, Shooyook was convicted of manslaughter and given a suspended sentence
Local Issue Space
So, what really is underway in Nunavut is 22 (OK, 21) local elections with no territory-wide campaigns. This generally means that that local concerns loom large with limited attention to territory-wide issues, though in 2013, concern and promises about education were prominent. Education is again likely to be front and centre this election, not least because of a highly controversial government attempt to overhaul the Education Act, which failed spectacularly.
Lack of housing, suicide rates, unemployment, infrastructure, family breakdown, and protection of Inuit culture are all likely to be discussed. Other issues? We will have to wait and see what develops, but these elections are really fought within the confines of a local issue space (see Sayers in Bell and Fletcher (eds.) Reaching the Voter,1991) that generates its own political and media dynamics.
Next time, we will look at some other contests that reveal the unique character of elections in Nunavut.
More information